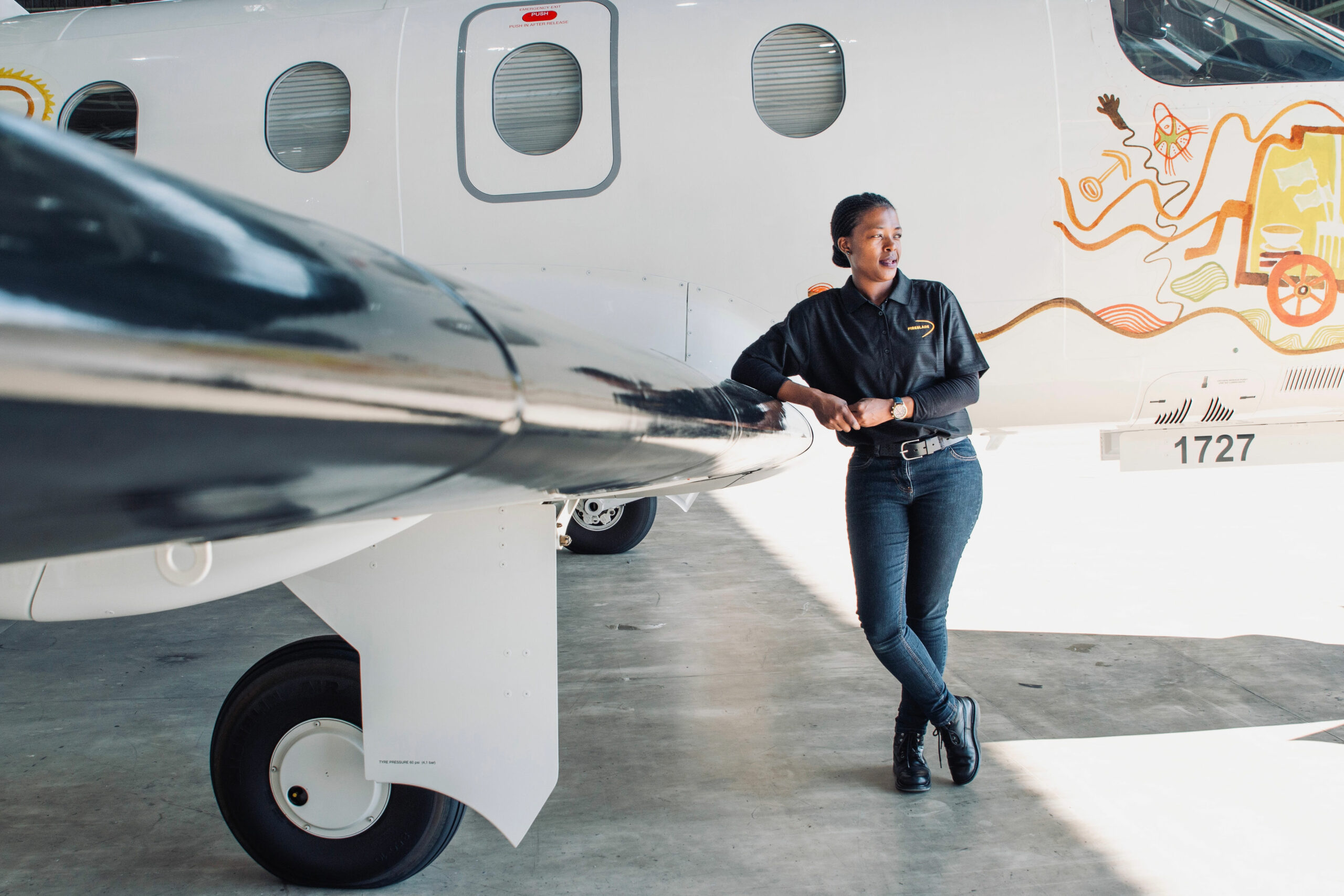 The women of Fireblade Aviation
Here at Fireblade Aviation we are proud of our diverse and pioneering team of women staff members and female aviators who go above and beyond to not only ensure our operation runs smoothly and safely, but also to break the stereotype that the field of aviation is not suited for women. In celebration of Women's Month, we caught up with some of our Fireblade family across multiple departments to learn more about their respective aviation journeys.
Dinah Luthuli – Apron Assistant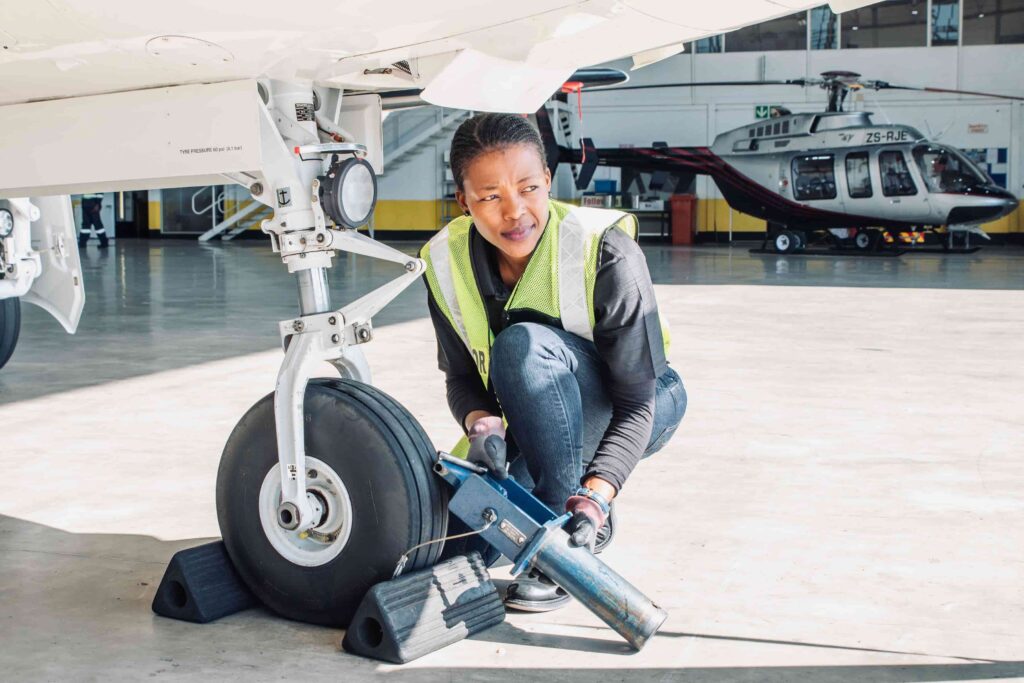 I guess you can say aviation chose me instead of me necessarily choosing aviation. I was originally studying towards something totally different and hoping to find a career in that field, but a learnership opportunity in aviation came along and I applied for it. It was the best decision I ever made. I joined the Fireblade Aviation team in April 2022 and my current title is Apron Assistant.
As part of our duties we load and offload aircraft, park them, marshall them and tow them to their positions, after which we wash them and do lavatory service. People are often surprised to hear that I work on the ramp because of the heavy equipment that we operate and the type of aircraft we work with, it's unusual for a woman to be in my role, some people have even asked me if I'm scared, but I just laugh them off. Aviation is a heavily male dominated field and I find it very exciting to be one of the first women operators and supervisors on the apron. I definitely think more women should consider it as a career!
KATIE NGUBENI- PILOT
I still remember seeing a Boeing 747 at the airport for the first time and being in awe of the giant machine. That image has stayed with me throughout the years and it sparked a passion in me for aviation. I hadn't been on an aircraft before but in that moment I knew that I wanted to be a pilot. When I took off in a Piper Cherokee 140 for my first training flight I was sold and never looked back. I am extremely grateful to have turned my passion and love for aviation into a full blown career.
Pilot training is very expensive and so I spent about three years looking for a sponsorship. In 2014 I was fortunate enough to be selected for the South African Airways cadet program which afforded me the opportunity to attend one of the best flight schools in Africa, where I attained my Frozen Airline Transportation License in 2016. At the end of that year I started my career as a commercial pilot with Fireblade Aviation as a first officer on the Pilatus PC 12, and later moved onto the King Air 200.
My days are never the same, some days are uneventful with clear blue skies and then other days can be adventurous, having you land on dirt strips with crosswinds and animals roaming around the runway. Those are the exciting days.
I love everything about flying. The freedom, the adrenaline and the gorgeous views, but my favourite part is physically flying the plane and being absolutely comfortable with the machine, knowing that once you're in the cockpit and in the moment, everything else falls away and it's just you, your crew and the open sky. I also love the challenge it brings, I always challenge myself to be better than I was on my previous flight.
I think it's important that more women join the industry because representation matters. All-female crew flights shouldn't only be reserved for Women's Day celebrations, but should be a normal occurrence. Whenever I felt like giving up during my training days I'd look up to women like Captain Annabel Vundla flying our national carrier and that motivated me to carry on. We need more women to occupy male dominated spaces in order to create a society that doesn't believe in gender roles or assign certain careers to certain genders, but rather supports that we are all capable of achieving any goals we set out for ourselves.
LINDIE DU PLOOY – SAFETY AND QUALITY ASSURANCE MANAGER AT THE AIRCRAFT MAINTENANCE ORGANISATION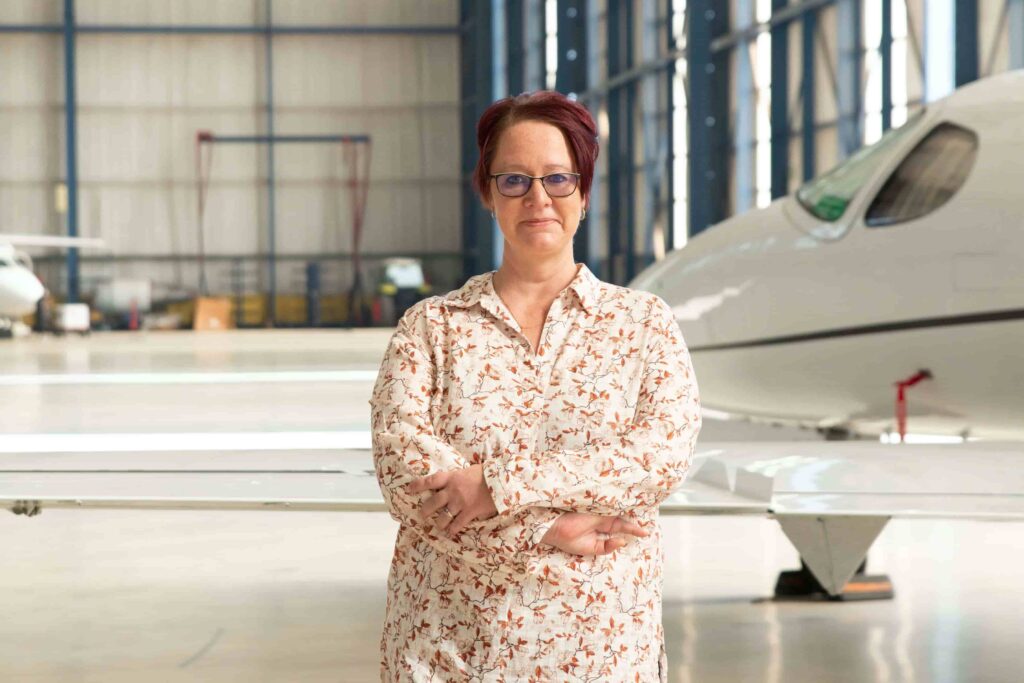 In 2003 I was driving to an interview to be a technical typist when I drove past an aircraft and realised I wanted to work in aviation. I started at the Fireblade AMO in March 2008 and today I'm the Safety and Quality Manager. Day to day I ensure that the engineers follow the correct regulatory and quality procedures in maintaining company and customer aircrafts, ensuring that safety comes first and that it's a safe working environment. It's a role that comes with a lot of responsibility because if we are not fully safety compliant we could technically be grounded. I love that when I sit in my office it's not just four walls, it's a hangar with various aircraft and a runway with aircraft arriving or departing. I'm currently the only woman in my department because it's traditionally a very male-dominated area, but we need more women in the field!
MADIMO MOKGOSI – RECEPTIONIST 
To be honest, I never thought that I would one day work in aviation. I worked in a school environment doing administration for nine years and I hold a degree in Business Administration. Fireblade is my first corporate job and it has been the most amazing experience. If I could go back to my interview when I was asked if I was sure this is where I wanted to be my answer would still remain the same. Yes!
Working at the front desk has taught me to be kinder and more generous and I get to interact with everyone from clients to pilots and staff. I love meeting different people because of all the different characters and personalities. I feel like every day at work is a new lesson on what we can do to improve or an opportunity to enjoy a job well done. I look forward to coming to work every morning, we work as a team here and we went from being colleagues to family.
KARABO MAKGOKOLO – JUNIOR FBO SERVICE AGENT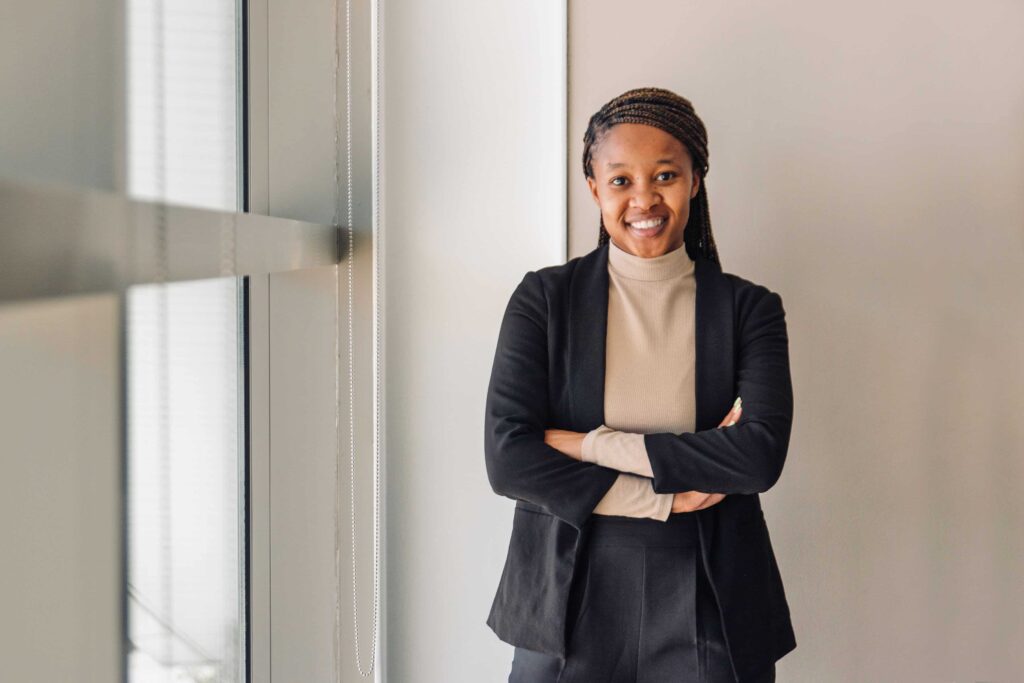 When I was still in high school I enjoyed Tourism as a subject and once we got to the airport and aviation module my interest in the industry grew. I initially started working as a customer service agent with an airline in 2016, but today I'm an FBO Junior Service Agent at Fireblade because the team have an amazing initiative whereby they select young talent to grow within the company, contributing to diversity in the aviation space. My job function is to coordinate and communicate with all ground departments like lounge, ramp, fuelling, and government officials, and then relay information to the relevant department, ensuring the customers' needs and wants are met and satisfied accordingly. Besides the good quality coffee machines, my favourite part of my job is that I get to see these exquisite aircraft from my office every day. I am also highly favoured and blessed to be in an industry I have passion for. Not only am I the only female in the FBO department, but I am also the first. We are breaking barriers one step at a time. I believe it's important that more women enter the field because representation is important, especially for the upcoming generation.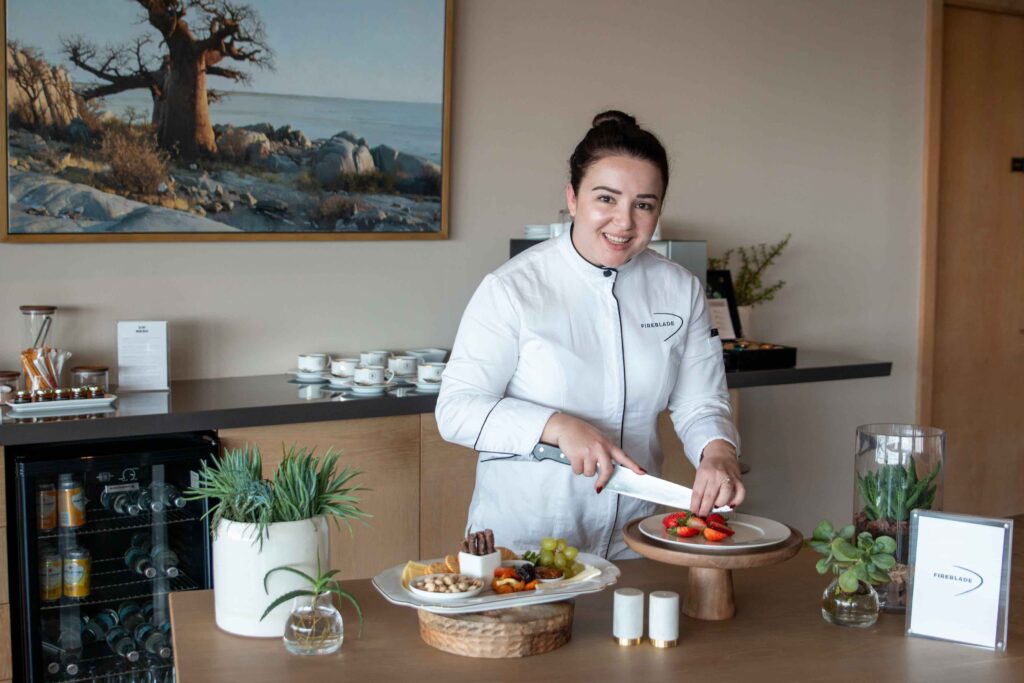 My culinary experience started when I was a commis chef in Stellenbosch. I then went on to work for a food studio, where I was fortunate enough to work with some of the greats in our industry. It was there that I met Chef Jan Hendrik van der Westhuizen in 2016 and we both had a keen interest in working to reduce food waste in the industry. I actually stumbled upon the Fireblade opportunity accidentally. Jan Hendrik  was advertising a position based in Johannesburg, which is unusual, and I thought I simply must apply. Once I went through the process, I realised that it would mean working directly with Fireblade and entailed far more than working restaurant hours, manning your section, and plating pretty dishes. Aviation is a  different beast, I have learnt so much in my time here.
I love the ever-changing requirements of my job. I am a planner and I want things to be organised so I have learnt to be adaptable and think differently about how I plan. I also love the environment I work in, I have a wonderful team who pull in the same direction and help me manage the challenges. It is great being able to come to a happy job. Women are certainly under-represented in our field, especially in leadership positions. I think the women at Fireblade are special because of  the diversity and skills they bring to the company.
CELEBRATING 'GIRLS IN AVIATION'
As part of our pledge to make the aviation industry a more inclusive and diverse space Fireblade Aviation is thrilled to be part of the Girls in Aviation programme run by NACO and in affiliation with Woman in Aviation International. As part of our involvement in this cause we hope to spark a passion for aviation in young girls and we will be hosting a series of events for young aspiring aviators and their families this September.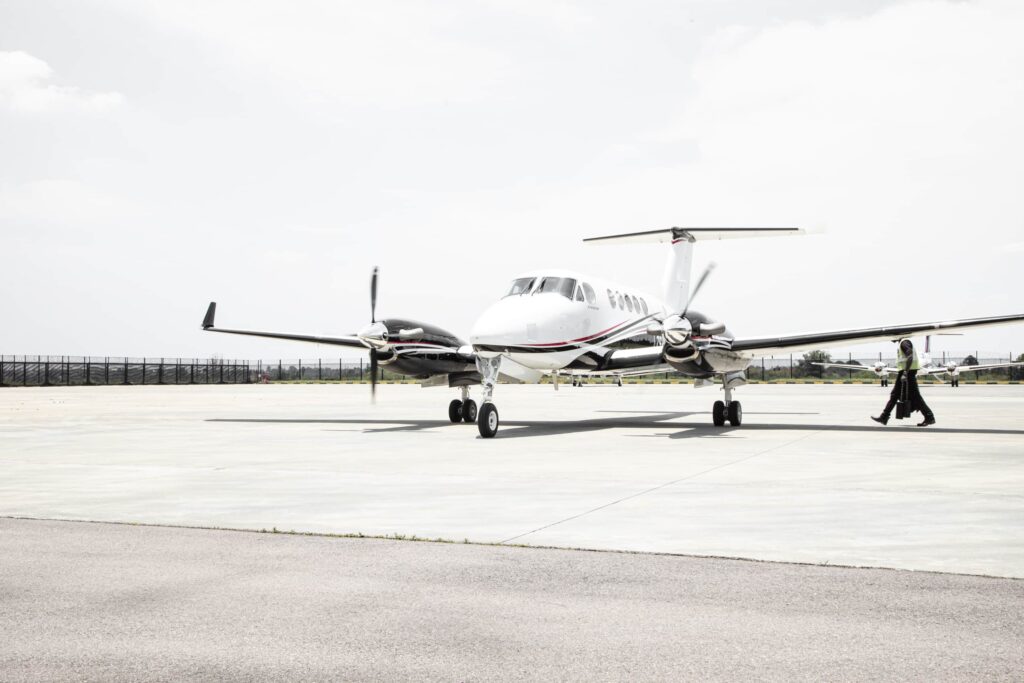 Excellence in aviation
Here at Fireblade Aviation we're constantly striving to offer the best in aviation travel and services […]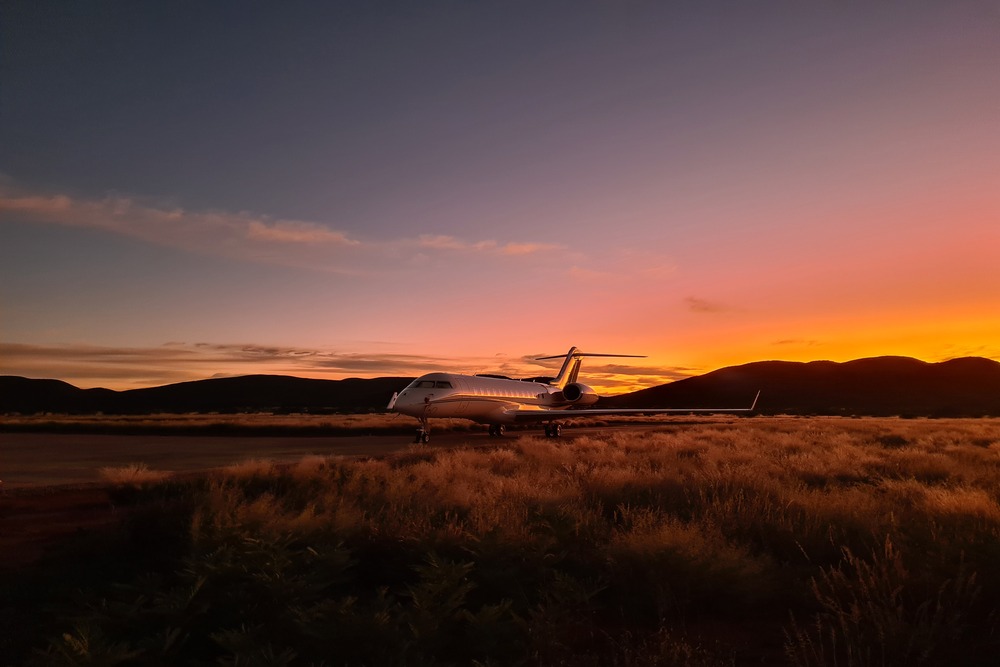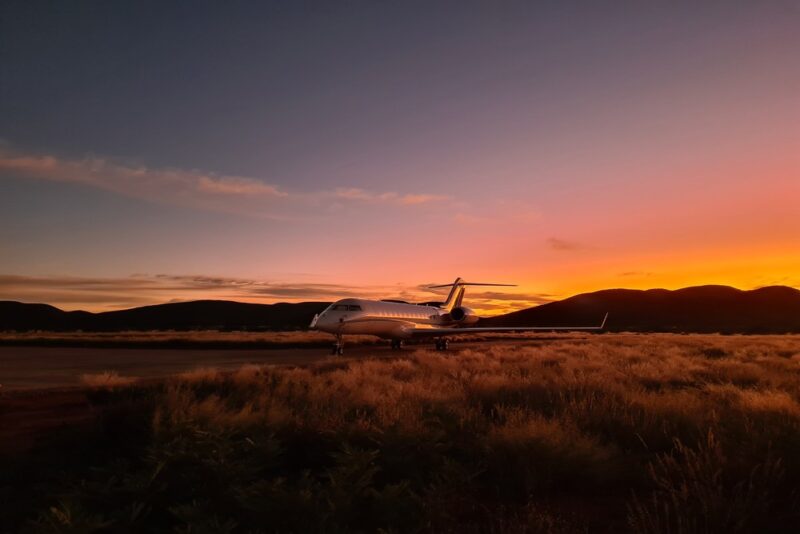 Celebrating Earth Day at 5,000 feet
Sustainability is one of Fireblade's key goals we aim to focus on […]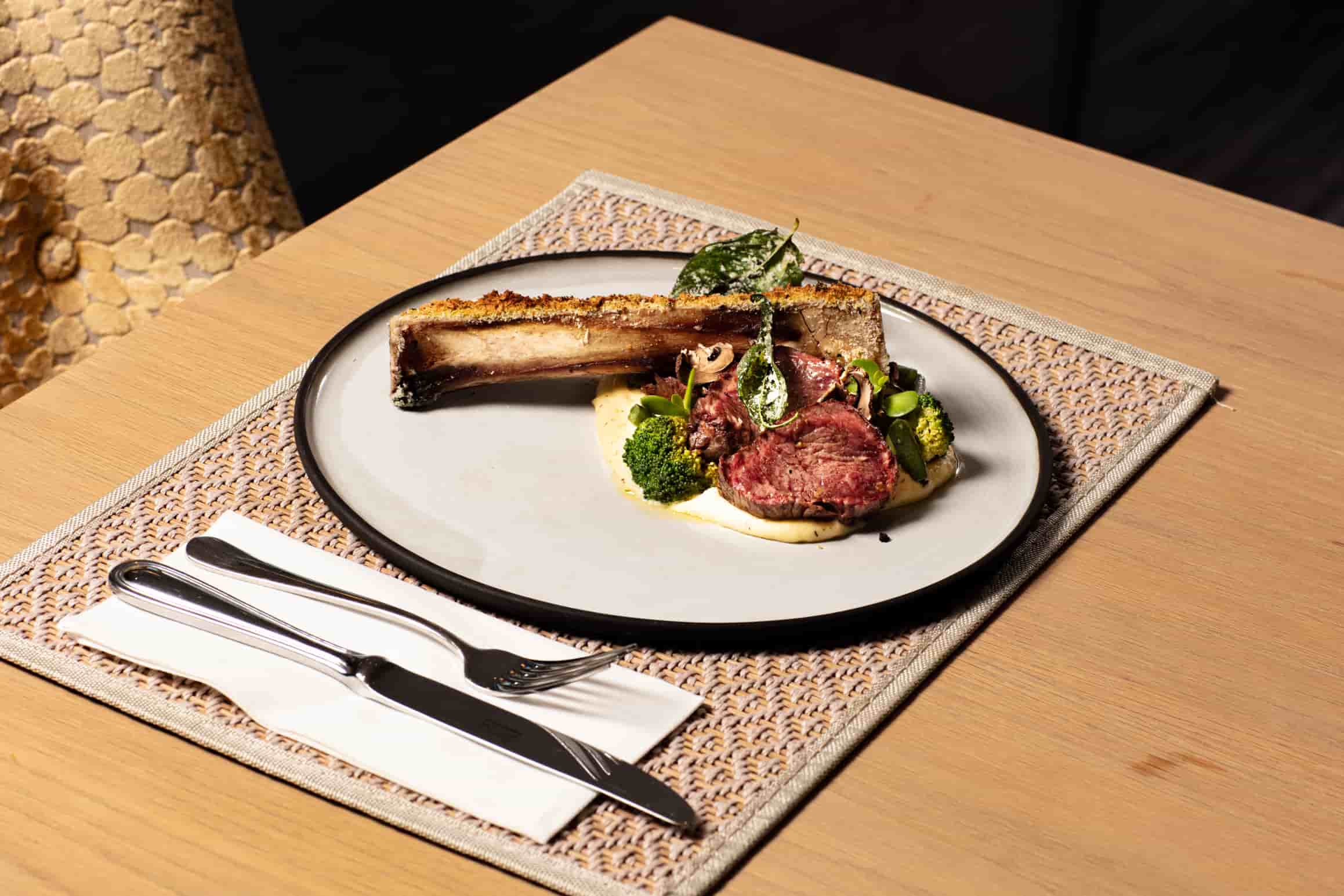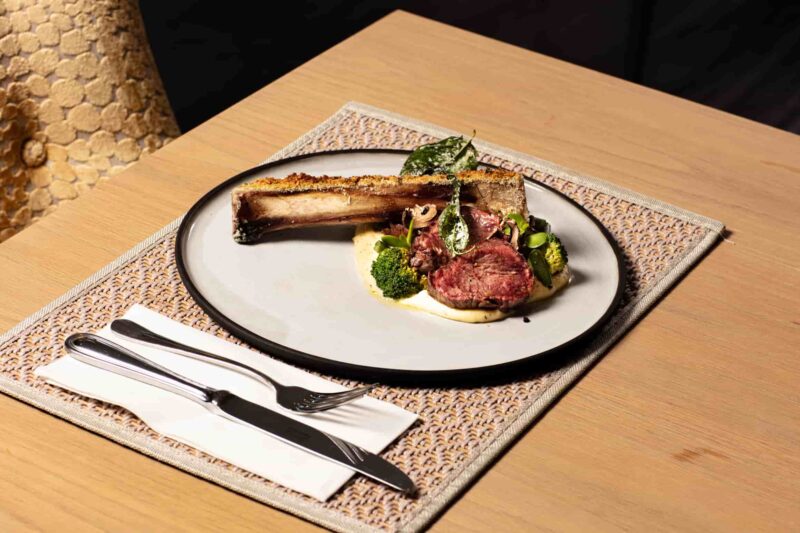 Culinary excellence at Fireblade
A Michelin star is not what comes to mind […]