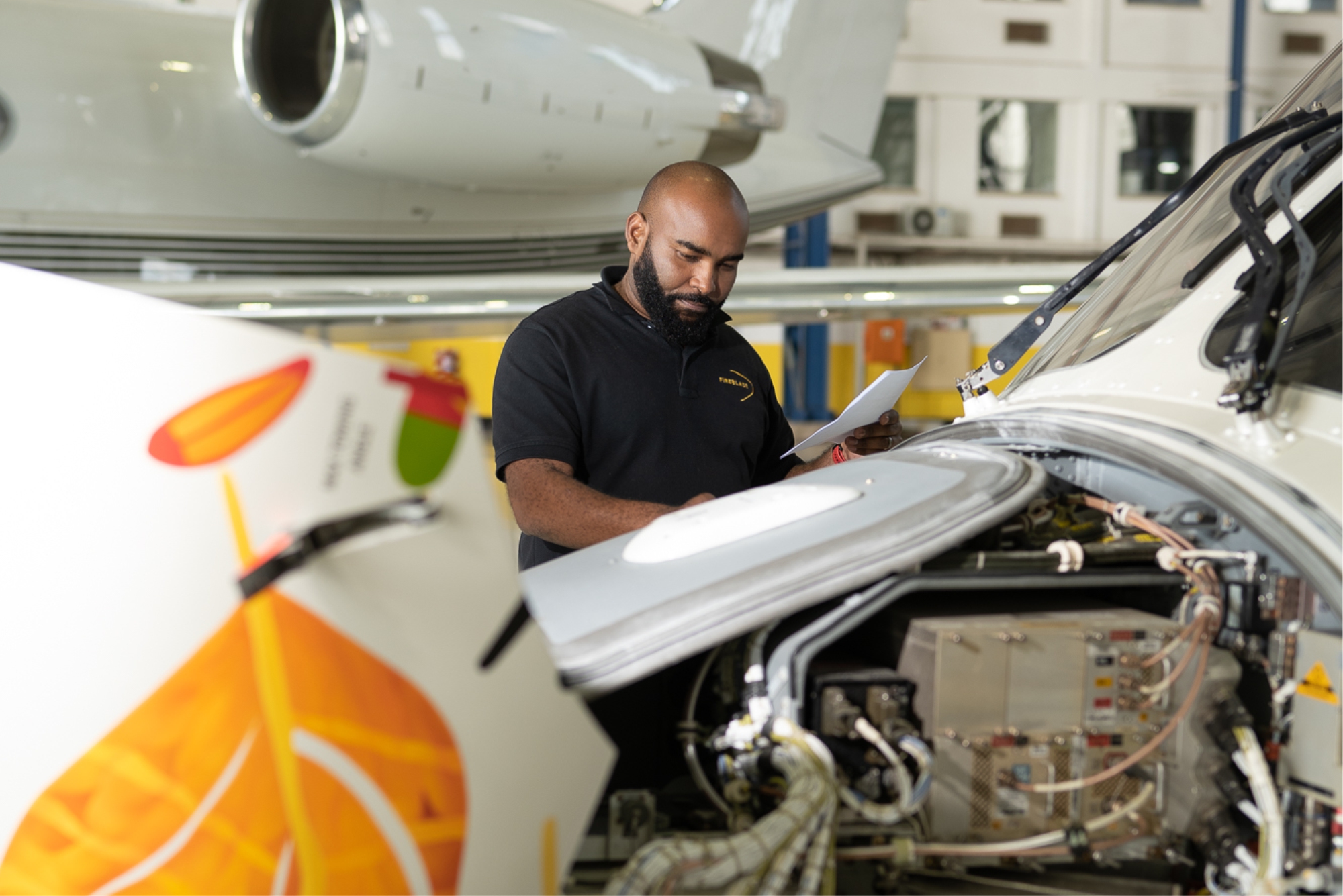 MRO Excellence with Dumi Mdluli
Spend five minutes with Fireblade's MRO Executive and Accountable Person for Maintenance Dumi Mdluli and you will come away with just one impression. He's passionate. Passionate about his work, his company, his family, and his purpose in life. His admirable work ethic and keen eye for detail ensures that the aircraft under his care are always kept in pristine condition.
Dumi's journey to his current role is certainly one to be admired and celebrated. He grew up in a small village near Groblersdal, tinkering with any gadget he could lay his hands on – always a "fixer" by nature. His fascination with engines led him to study diesel mechanics at a college in Pretoria and, although he had never been near an aeroplane at that point in his life, by some twist of fate Dumi ended up being recruited by the South African Airforce after his potential was flagged in an aptitude test.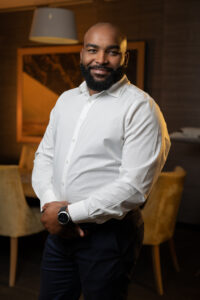 The Airforce sent Dumi to Bloemfontein to qualify as an aircraft mechanic, but he wanted more and his unwavering ambition to succeed meant that he spent most of his weekends studying and learning and eventually earned himself an opportunity back in Pretoria. While still with the Airforce he worked freelance jobs and used the extra money to fund as many training courses as he could.
"It was a bit boring in the Airforce, doing the same thing over and over again. Doing all those courses allowed me to get out of the Airforce and it differentiated me from the others."
Next stop on his career path was based at Lanseria airport where he spent three years flying all over Africa with the United Nations humanitarian crews, gaining invaluable experience. Dumi then decided to settle down and applied for a job with Anglo American where he would spend the next eight and a half years working on helicopters and fixed wing aircraft.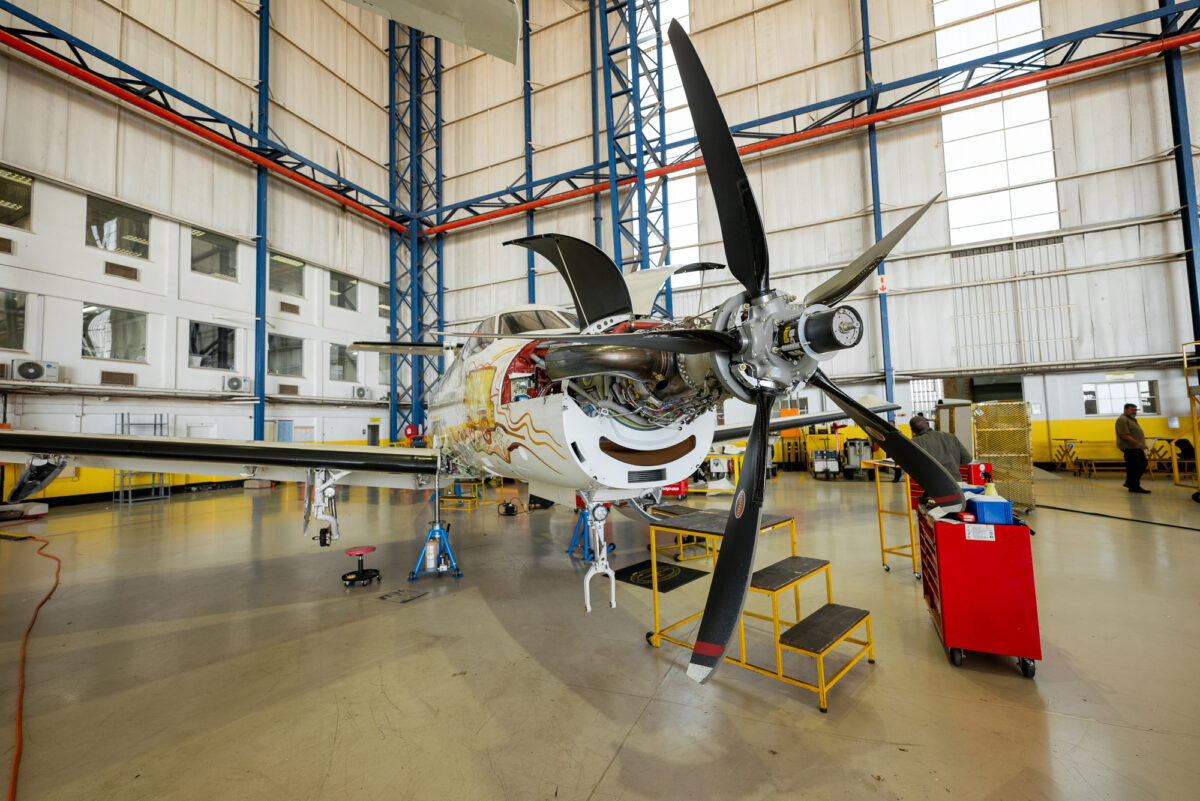 In 2014, a long-time colleague entrusted Dumi with the task of establishing his very own maintenance facility, for what would become Fireblade Aviation's first maintenance crew – and the rest, as they say, is history!
Today Dumi runs a seven-person department responsible for keeping the ever-expanding fleet of aircraft in mint condition. The MRO department is proud to lead by example, operating like a well-oiled engine from its base at O.R. Tambo International in Johannesburg, from conducting routine inspections and Line Maintenance to Aircraft on Ground (AOG) work and more technically demanding Base Maintenance and repairs at the FBO hangar.
"Everyone needs to know how they contribute in order for them to do their work, to know the impact of our jobs on others, to know that one small thing overlooked or not completed can lead to disaster. In our world, a ZAR250 part can impact a million-dollar aircraft. Because of the set-up of this corporate environment, we in maintenance need to constantly work around demanding schedules. We cannot stop operations because of maintenance issues."
Dumi's team includes top engineers and experienced technical staff with specific expertise in Bombardier, Leonardo and Pilatus products, amongst others – and are all fully approved by the South African Civil Aviation Association to work on South African registered aircraft.
The MRO team holds the following certifications:
Augusta helicopters
Global 6000
Pilatus PC12
Challenger 350
Learjet 45
"All of us are here to do our work, for me that work is mixed with passion. Your passion is your lifeline, I treasure what I do because it's my life. It's the only thing I have. I cannot just walk out of here and do any other work. For me – today, to be where I am, is still mind-blowing."
In his free time Dumi enjoys cooking (a simple beef stew is his favourite), tinkering with cars (some things never change) and exercising. He'd also quite fancy learning how to play the saxophone. With Dumi's passion, drive and multiple talents – we have no doubt he'd master that in no time too!

Fireblade Aviation is excited to announce that it has won five prestigious awards in 2023, showcasing the private aviation leader's unwavering commitment to excellence in the industry. At the recent 2023 World Luxury Travel [...]
WORLD MENTAL HEALTH MONTH Supporting mental health without the stigma. South African skies are piloted by highly skilled and trained men and women. Their professionalism has built our country's reputation [...]
WORLD TOURISM MONTH People around the world are wanting to travel… but that means more flights. At the same time, the world has moved into an era where we want and [...]