Industry collaboration – a chain reaction for change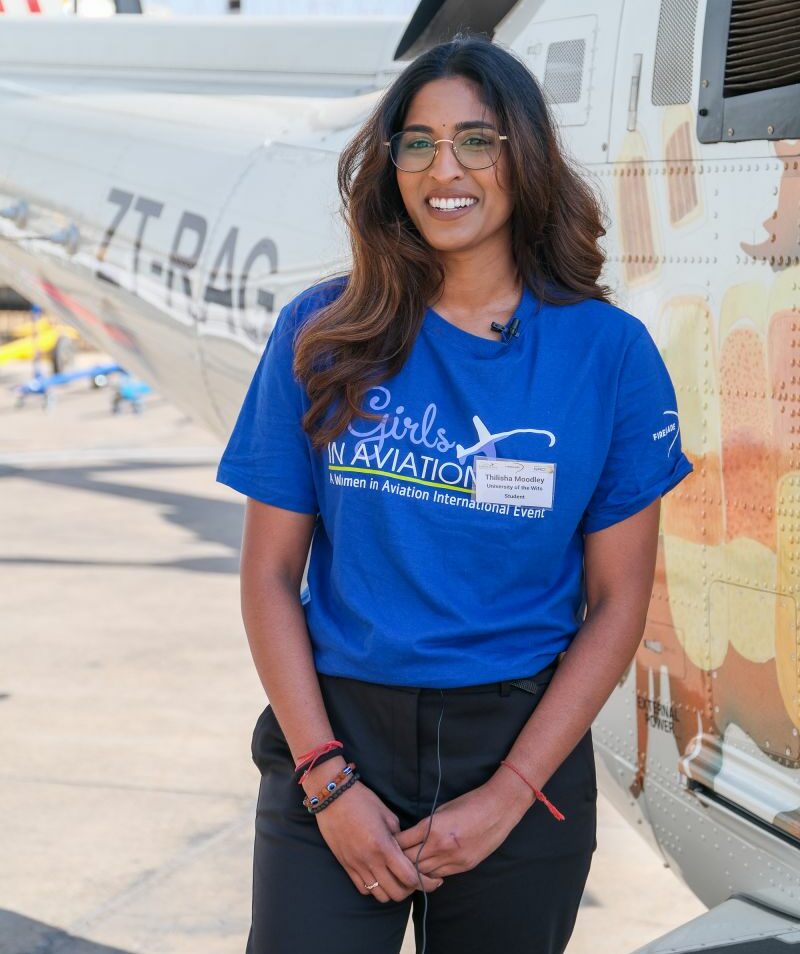 Having a dad who took both his girls to the Virginia Air Show, gave them an appreciation for elegant aerodynamic lines, of Formula 1 cars, and the roar of turbocharged engines was a fitting start on an exciting journey in Aeronautical Engineering for Wits student, 29-year old, Thilisha.
Now completing the last year of her degree, she describes how the pieces all started fitting into place at school; her natural ability in maths, a passionate science teacher who inspired her, and a thrilling acceptance into the Faculty of Engineering post Matric. "With dreams of designing aircraft and changing the world, I also realised that I'd have to make a career out of my qualification, and that's why an initiative like this aviation event for schoolgirls and university students gives me a lot of hope for the future."
An industry collab

Thilisha is referring to Netherlands Airport Consultants (NACO) and Fireblade Aviation's much awaited second annual Girls in Aviation (GIA) Day, held on Saturday 5 August at our fixed based operator (FBO) at OR Tambo International. It's a day where we connect youth, our staff, aviation professionals and very importantly, industry collaborators – NACO, a company of Royal HaskoningDHV, in association with Women in Aviation International.
"The aviation industry has been a predominantly male space, we want that to change, says Leigh Kretzschmar, MD of Fireblade Aviation. "We need our youth – both boys and girls, to become aware that the industry calls for multi-faceted areas of skill, and while we most certainly need pilots and engineers – there are diverse and dynamic job opportunities to tap into. By collaborating with partners to build the aviation industry, we can start a chain reaction for change!"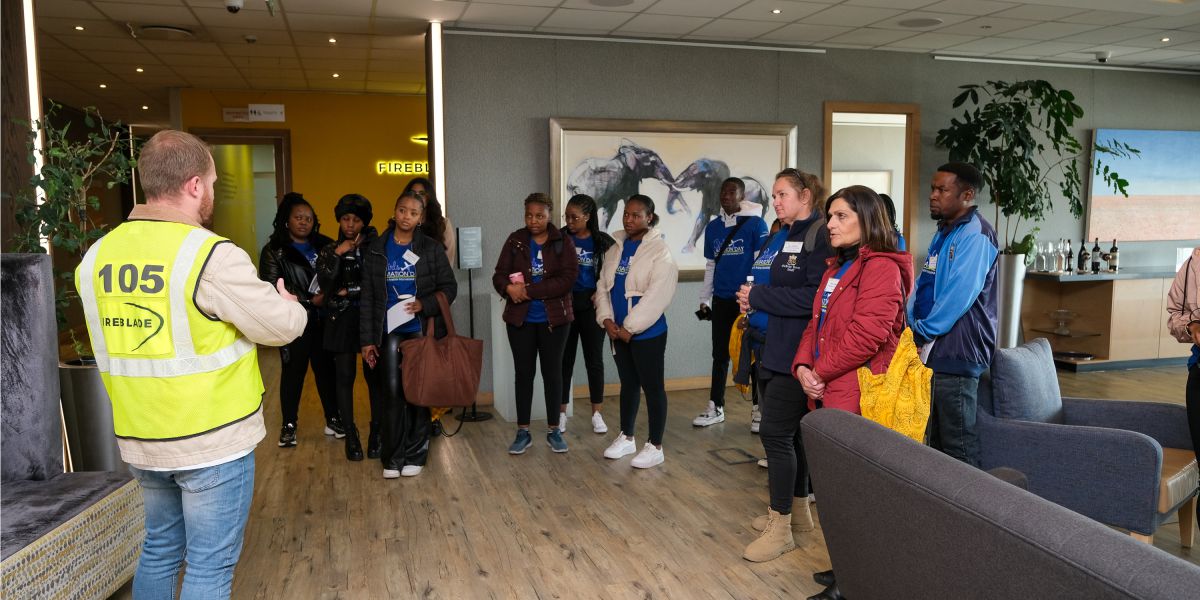 Getting on with the show!
There was a synergy to holding GIA Day 2023 in Women's Month as the aim of the initiative is to inspire and empower girls and young women to join the engineering and aviation field and nurture a passion for the industry. The line-up included a tour of Fireblade Aviation's FBO, where students were exposed to all the facilities and processes that make an FBO function, from the Marketing department and the hospitality offering, through to the Pilot's lounge and the fuelling station. This was set against the backdrop of Fireblade's apron and hangar with aircrafts open for the girls to explore and enjoy! There were Grade 11 and Grade 12 schoolgirls and chaperones visiting from 3 schools, including McAuley House, St Matthews and Iona Convent School, as well as engineering students from WITS. Hands-on experience was a highlight for our visiting students, while they had the opportunity to network with and learn from all the industry experts throughout the day, including Fireblade's Managing Director, female helicopter pilots, Fireblade's industrial engineer, NACO's airside designer and airport engineer, as well as entrepreneur and founder of AirStudent Travel, Lwanda Shabalala.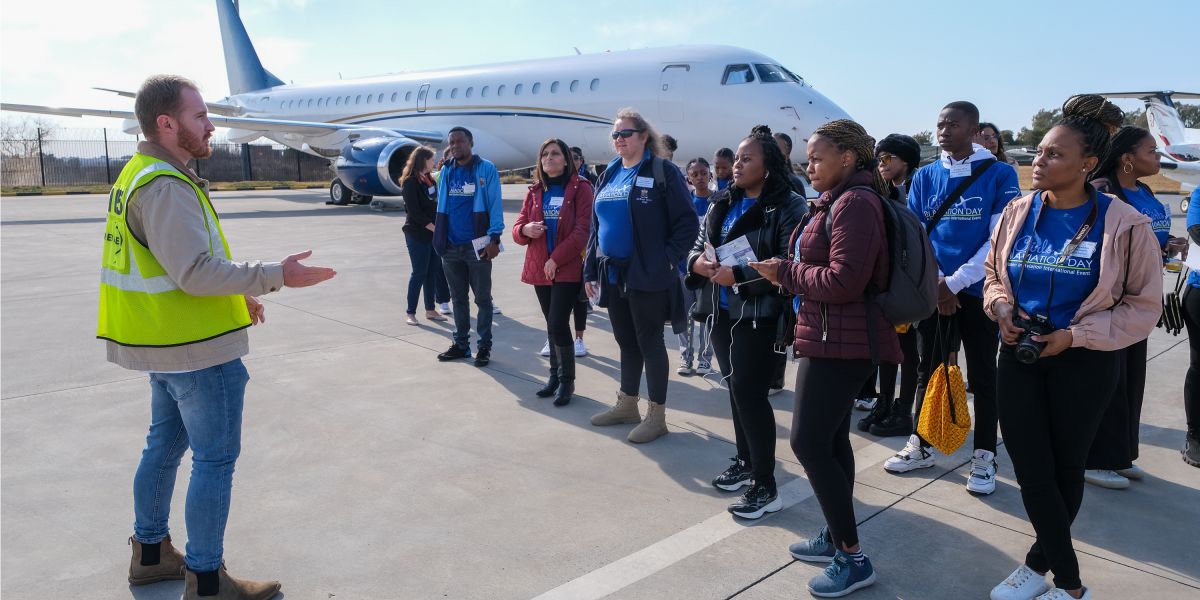 Future forward
Engineering student Thilisha, like so many students before her, realised she didn't have a clear understanding of where her degree could take her and how she could practically channel herself into a career. "It's not like commerce where you have exposure to mentors and opportunities, and even chatting to a chemical or mechanical engineer is not the same as connecting with someone in the aviation industry when you are studying aeronautics. I really value a day like this, and for school going girls who are interested in science, technology, engineering, and mathematics (STEM), this exposure before they choose their careers is vital to mapping a path – it will make a very real difference."
These events are designed to inspire the next generation of women in aviation. "We want to see girls interacting with positive role models and considering aviation as they make their university and career plans – this is so much more than a sponsorship initiative, we collaborate to invest in the future," says, Renee Smith, Airport Designer at NACO and the driving force behind the Girls In Aviation Programme in South Africa.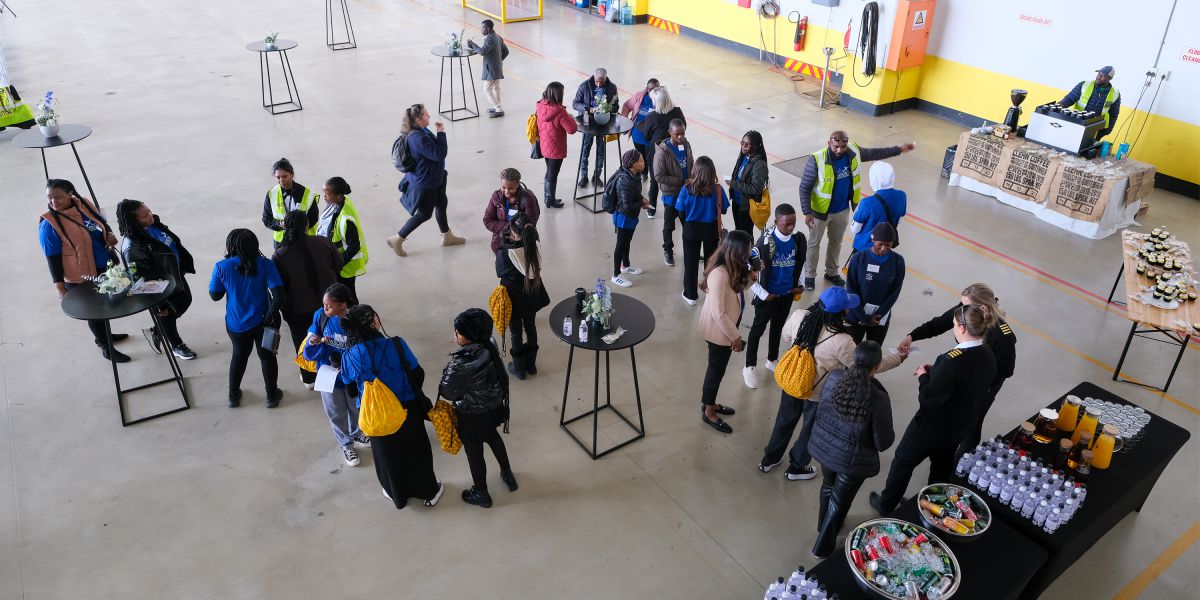 Staying sustainable
And the future is evolving fast! Robotics, virtual reality, and technology are revolutionizing the aviation space and in tandem, the industry is under pressure to find sustainable solutions and innovative measures to reduce the industry's footprint. "Sustainable Aviation is a buzz word everywhere and reaching net zero in the Aviation industry by 2050 is a huge task," says Marcel Langeslag, Director Aviation Africa at NACO, a guest speaker at the GIA Day. Use of Sustainable Aviation Fuel and alternative energy sources like electric and hydrogen, are forerunners in the design development of aircraft to assist with achieving this target.
For our new generation there is so much to look forward to with new technologies, alternative fuels, and operational improvements already in progress and starting to reduce the industry's environmental impact.
For students like Thilisha, who's dream is to design aircraft, the opportunity to develop electric aviation or e-Flight in South Africa and the continent is a future reality. NACO did a study about a year ago and the characteristics of the African landscape, with its many small airports in remote destinations, points to real opportunity for smaller aircraft to serve them cost effectively – because electricity, if generated sustainably, is a lot cheaper than jet fuel. "It's not a pipedream, the first e-aircraft are certified and already operating in Western Europe and Scandinavian countries, so there is massive opportunity to use this new sustainable technology to increase connectivity within Africa," said Langeslag. "More focus needs to be placed on this type of design thinking as Africa continues to develop in the coming decades."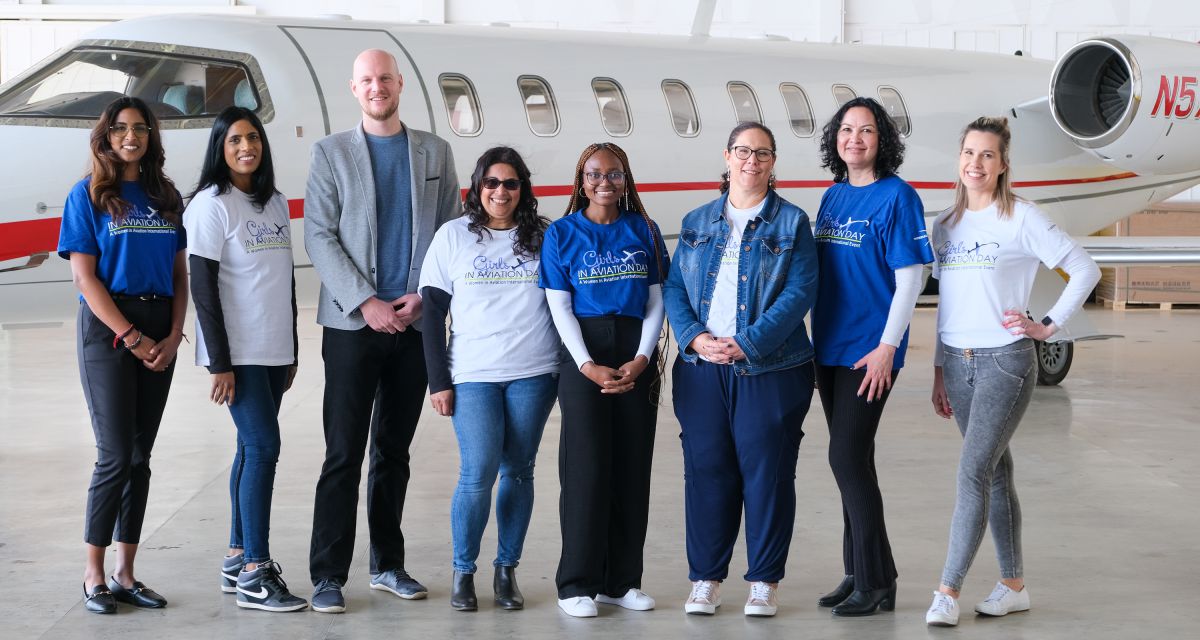 Igniting change
Thought leadership and networking at developmental events like GIA are designed to ignite young, enthusiastic change makers to be inspired and develop as the next generation of aviation professionals. As bold innovators ourselves, Fireblade will continue to open up our world of opportunity to bring about positive and progressive change in aviation!
#TheLeadingEdge.
WORLD MENTAL HEALTH MONTH Supporting mental health without the stigma. South African skies are piloted by highly skilled and trained men and women. Their professionalism [...]
WORLD TOURISM MONTH People around the world are wanting to travel… but that means more flights. At the same time, the world has moved into an [...]
Fireblade Aviation aims to be as green and eco-friendly as possible – in fact, we're the first aviation company to join as a member of The Long Run, a nature-based [...]