How to make sustainable choices when planning your next flight
People around the world are wanting to travel… but that means more flights. At the same time, the world has moved into an era where we want and need to live, work and travel more sustainably; to be greener in our choices, and kinder to our planet.
How do you as a tourist make your travel more responsible?
Start by researching your travel suppliers. "As a tourist make sure you are associating with organisations that promote sustainability," says Charlotte Winnan, Fireblade Aviation's Head of Sustainability. Ask yourself what you can do to make a difference when it comes to being a 'greener' traveller.
Every effort counts:
When flying, pack a lighter suitcase – the lighter the aircraft, the less fuel it uses.
Choose direct flights. Private aircraft charters often land close to your destination, cancelling out the need for commercial domestic connections and vehicle transfers. This means lower emissions.
Travel with a refillable water flask instead of buying bottled water at every stop to reduce your use of plastics.
Think about which restaurants you are eating at – is the food seasonal and sustainably sourced?
Consider booking eco-friendly destinations – hotels, lodges and airports that support sustainability.
At Fireblade, what are we doing to make a difference to promote sustainability?
By being committed to a sustainable future, we actively encourage and empower pilots, operators, and travelers to make better, more valuable, time efficient choices. The global aviation industry is working hard to provide long-term solutions to reduce carbon levels and fuel emissions; it's a major point of concern for any responsible aviation company, but there's a way to go before biofuels, new technologies and regulations become gamechangers.
We've seen a 20% increase in Fireblade's monthly flights – 98% of which are tourism-based.
"Offering the right type of aircraft to clients is key," says Shaun Hook, Fireblade's Charter and Flight Operations Manager who recommends your first step to ethical travel is choosing an aviation partner that uses aircraft with sustainable solutions in mind. We frequently use the PC-12 to fly tourists to lodges; it emits up to 74% less carbon than business jets and 28% less than leading multi engine turboprops. It's also a great choice for shorter flights. "If there's a request for five passengers to be flown to Botswana for example, we would have a conversation with the client about considering chartering the PC-12 – it's cheaper and serves the same purpose without the environmental impact of a bigger jet." Fireblade makes use of some of the most fuel-efficient aircraft including King Air 200 and 350. "We've got the capability to fly direct to anywhere in the world, so the way that we fly is important," says Hook.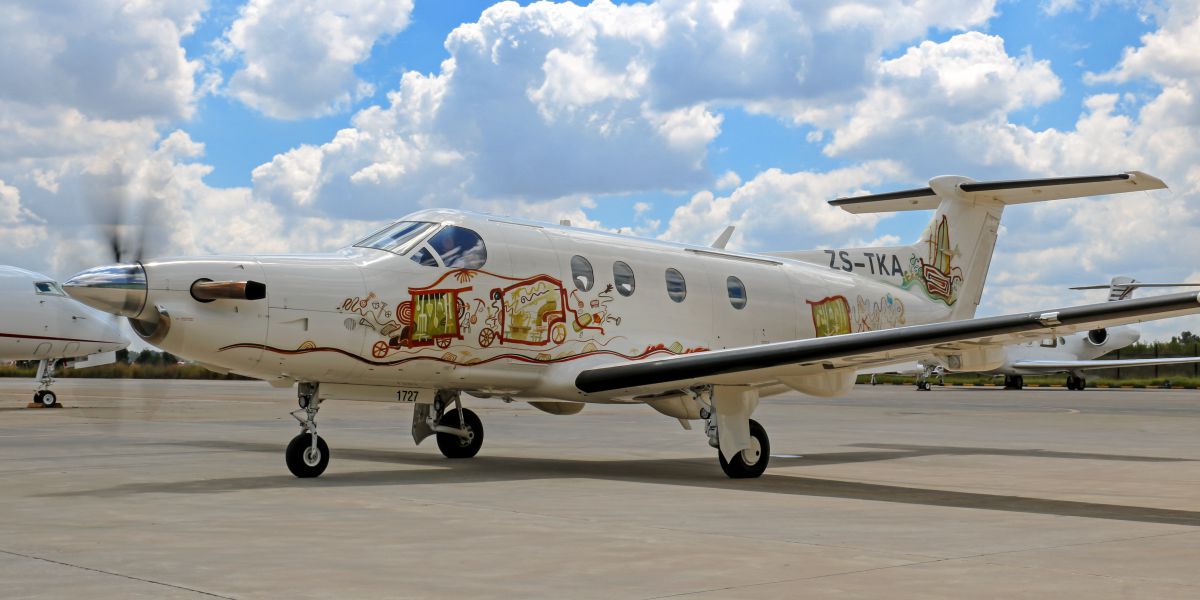 Increasingly there are other ways that aviation is meeting sustainability standards through what is known as the 4C's approach of commerce, conservation, culture, and community.
Fireblade is the first aviation company to join as a member of the Long Run, a nature-based tourism business.
As a Nianova company, sustainable business practice is embedded in our operations, as is net positive impact and job creation.
We use a digital sustainability tracking tool called Weeva. It applies the latest science to help us act with purpose to measure and improve our impact on the road to creating a more efficient and resilient sustainable tourism business.
Winnan concludes, "It's the small, and big, actions taken today that will secure a sustainable planet for generations to come."
WORLD MENTAL HEALTH MONTH Supporting mental health without the stigma. South African skies are piloted by highly skilled and trained men and women. Their professionalism has built our country's reputation [...]
WORLD TOURISM MONTH People around the world are wanting to travel… but that means more flights. At the same time, the world has moved into an era where we want and [...]
Fireblade Aviation aims to be as green and eco-friendly as possible – in fact, we're the first aviation company to join as a member of The Long Run, a nature-based tourism business. As part of [...]